MICHAEL W. BARNARD

Michael W. Barnard is a multimedia artist who is an independent filmmaker, writer, artist and photographer, and based in Santa Monica,CA.
This series is collectively titled PHOTOFIELDS.
All Photofields are 12-color archival inkjet prints made personally by Michael Barnard. They are mounted on Alumalite with a wooden backing and framed in 1/8" X 1" black aluminum. Shipping & packing is additional. Larger sizes are available upon request. please contact lapinart1@gmail.com for further information.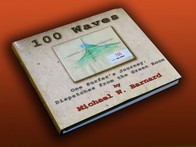 "100 Waves – One Surfer's Journey: Dispatches from the Green Room"by Michael W. Barnard, is a unique and deeply personal visual history of one person's life-long involvement with surfing and the sea. This beautifully designed 320-page book covers fifty years of Michael W. Barnard's personal surfing history. His fascinating and often sumptuously rendered sketchbook entries reveal profound tellings of inner, mystical revelations combined with often ecstatic outer, surf-related experiences in locations around the world. Click on the book to take a look or purchase this limited edition art book.






---