KEITH KIRTS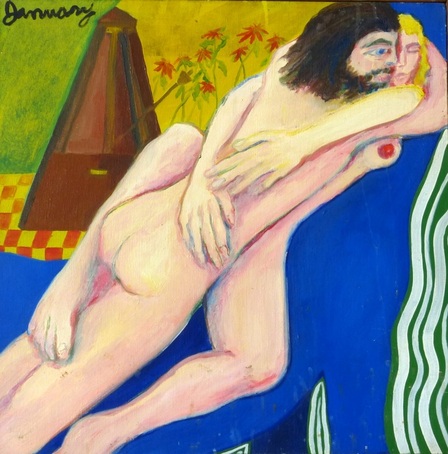 KEITH KIRTS - BIOGRAPHY OF THE ARTIST

Keith Kirts is a Los Angeles artist. After attending art school at Columbus College of Art and Design in Columbus, Ohio, he took a two year detour in Viet Nam. Then drove his VW Bug with his knock-out blonde girlfriend, Veda, who was the model for most of the works during that period, to Venice, California, just in time for the hippie decade – a really fine time to be a young artist in Los Angeles. Kirts met Steve Lapin during that period in Venice, and they have been close friends ever since.

Kirts apprenticed to the legendary hand lithographer, Joe Funk, (the first Master Printer at Tamarind Litho Workshop) at Joe's workshop, Joseph Graphics in Venice, which was a Mecca for local and international artists. He also apprenticed in etching printing to the equally legendary Irving "Doc" Groupp. Several years later, when Sam Francis, the internationally known abstract expressionist painter, opened his private litho shop in Santa Monica, he invited Kirts to be his first Master Printer.

Having unlimited access to the finest litho stones and presses, Kirts made many small editions of his own iconic images – being especially attracted to graphic portrayals of the mysteries of male/female love. His lithographic washes and brush work on these stone prints are unparalleled in their delicacy. The images, although a bit risqué, are strong and bright with very little darkness to disturb the mood of a room.

His graphics and watercolors were shown at the Felix Landau Gallery, Los Angeles, throughout the 1970s under the tutelage of Maria Reinshagen. The paintings and graphics were shown at the Greenson Gallery, Los Angeles into the 1980s. The Esther Bear Gallery in Santa Barbara carried his graphics and watercolors during the 1970s. His works are in many private collections as well as in the permanent collection at the Santa Barbara Museum of Art.

Now in his early seventies, Kirts is currently writing novels, one after another, and seems unable to return to the plastic arts. As a result, his studio full of oil paintings and these very limited edition lithographs and etchings are a rare kind of collectors' item.